"Passionate, motivated, accurate, creative and excellent in providing tailor-made interpreting and translation solutions! "
Certified translator and interpreter POLISH ENGLISH DUTCH
Welcome to my website where you can find extensive information on my translation and interpreting services. I am a certified consecutive interpreter, conference interpreter (simultaneous interpreter) and translator with native Polish and offer various translation and interpreting services in the language combinations: English, Dutch and Polish.
Conference interpreter (RSI) or whispering interpreter for a conference or a meeting.
Consecutive interpreter for a company presentation of company tour as well as for business meetings and negotiations
Interpreter at the civil-law notary at the execution of notary deeds
Interpreter at courts during trials as well as court sessions in the domain of family law, trade law
Interpreting webinars, trainings online or on-site
Sworn and legal translator of official documents needed for court cases, mediation, adoption procedures, family documents for registration in official population registers, diplomas for studying or working abroad and notarial deeds as well as other texts (websites, manuals)
My working method
I carefully and accurately start working as translation and interpreting is much more then converting words from one language into the other. The quality is my priority:
All translations are done by native speakers
I only cooperate with well-educated, professional and experienced translators and interpreters who not have a perfect command of their languages but also have thorough knowledge of their countries and cultures.
For coherence I use glossaries and translation software, i.e. SDL Trados Studio 2019.
All translations are double checked and timely delivered.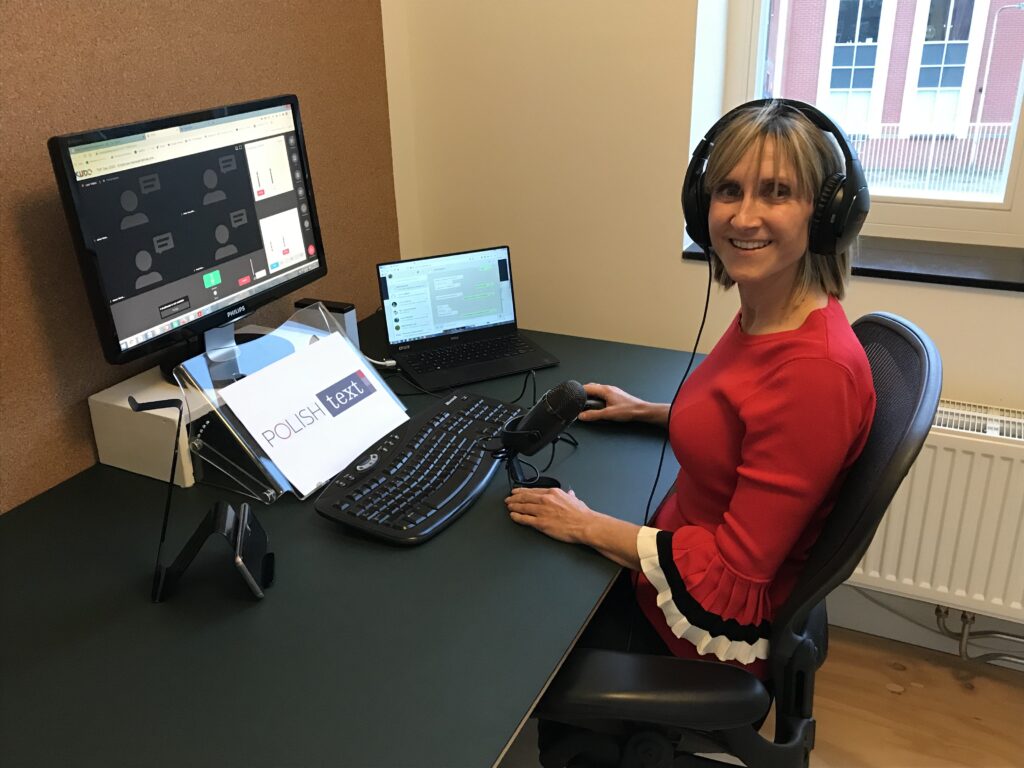 Do you need an interpreter for a video conference in the time of COVID-19 crisis?
The coronavirus has changed our daily lives. Almost everybody works from a home office and all the meeting and conferences as well as travels have been cancelled. However, organisations and companies are seeking to adjust to the new reality and choose on line tools as their employees, customers and suppliers still need to keep in touch, discuss various issues, and not rarely in international setting. Therefore, interpreters are still needed and adjust – just like organisations and companies – to the new pandemic time.
Using platforms such as Skype, WhatsApp or Zoom they can communicate, see and hear each other and the interpreter supports this process. With perfect connectivity and good image quality the contact with colleagues or customers is nearly as good as face to face.
I am available for conference interpreting (simultaneous interpreting/RSI) job via Interprefy, KUDO, QuaQua or Olyusei to name a few. Click here to check my KUDO profile.
Should you need an interpreter for a virtual meeting or conference contact me at: 06-53482945 or send me an e-mail: info@polishtext.nl or click here.