Interpreting is converting spoken text into another language, however the knowledge of two languages is not sufficient to work as an interpreter. Body language, gestures, posture, manners and etiquette are as important for good communication. Picking up on those nuances and cultural peculiarities is essential. Interpreting is a profession I love as I can work with languages and people (from different cultures) and make sure the language barriers disappear and people connect. The fun part is that interpreting also means never a dull moment as almost all jobs are very diverse.
Simultaneous interpreting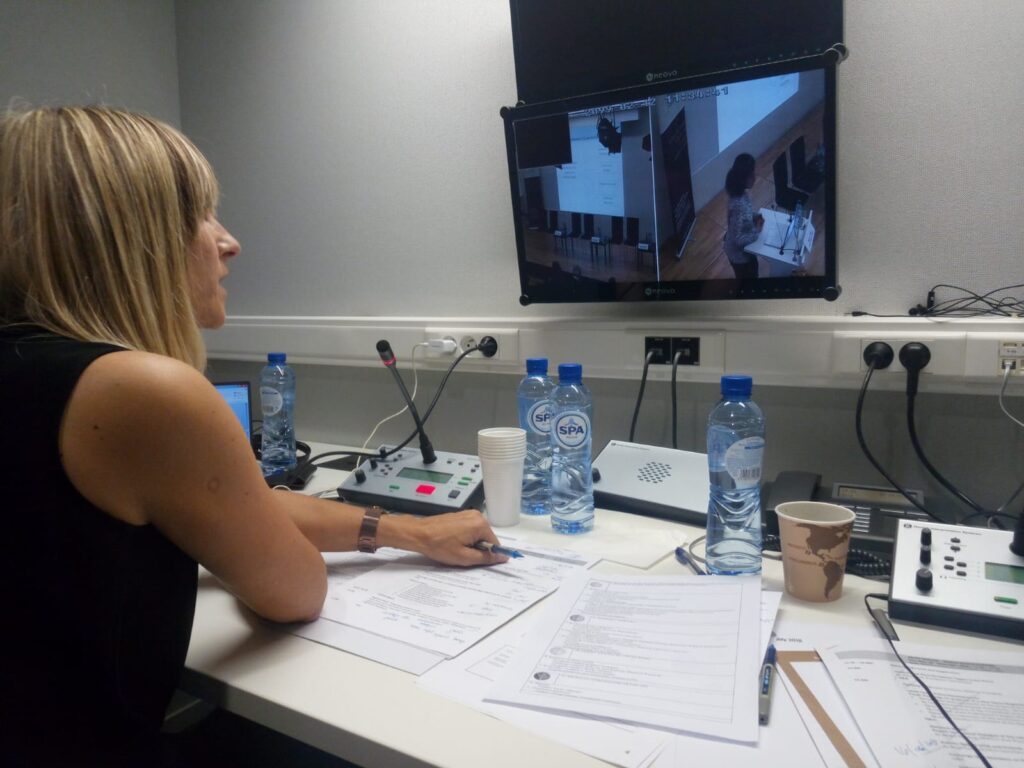 Simultaneous interpreting is a mode of working mostly used during conferences with multiple languages. It is also called conference interpreting. Interpreters work in pairs in a booth and hear the speaker via a headphone. While the speaker is giving their presentation or speech, their words are simultaneously interpreted into different languages. The listeners can hear the interpretation using a wireless headset. Simultaneous interpreting is a top level performance: a maxim of concentration is required as well as great effort of the brain. It is also the reason why interpreters work in a team of two per language. They switch every 20-30 minutes to give their brains a deserved break.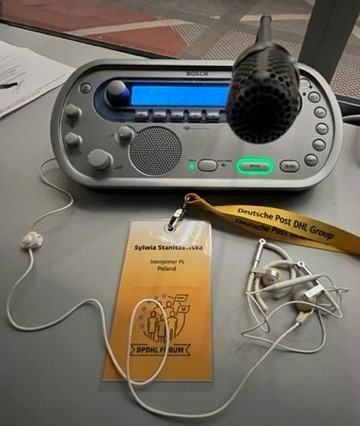 Most of my assignments have always been from my customers' premises, I am also available for conference interpreting (simultaneous interpreting/RSI) jobs via Interprefy, KUDO, QuaQua, Zoom or Olyusei to name a few. Click here to check my KUDO profile.
I offer simultaneous interpreting for big international companies (i.e. Heineken, DP DHL), European institutions (i.e. Eurojust, Committee of the Regions, political groups at the European Parliament) or trade unions federations (ETUC, Industriall Europe).

While interpreting for smaller groups or in more informal settings (a factory tour with a maximum of two working languages) a mobile tour guide is a possible solution. I use a microphone, speak very softly and the listeners hear me through their headsets. I can then still offer simultaneous interpreting but without an interpreting booth. However, when interpreting is required for more than 1 hour, two interpreters are necessary.
Consecutive interpreting
After the speaker has spoken during a short time, I interpret these words into the other language. Sometimes I take notes if the speaker utters longer fragments of text. This means that no equipment is required, but it takes more time than simultaneous interpreting.
This way of interpreting is mostly used during tours, small meetings or company presentations with speakers of no more that two languages. It is also a good method of working while consulting a physician, lawyer, psychologist or the civil law notary.
Whispered interpreting
In these situations I interpret the spoken words for one or two listeners, speaking to them directly. It requires concentration as the external factors such as noise can be distracting.
I offer my services in the following language combinations:
Polish <<>> Dutch
English <<>> Polish
English <<>> Dutch
Interested? Contact me here.